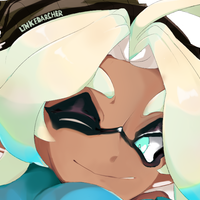 Profile
---
Name: Linke
Age: 23
Race: Inkling
Hair color: Pale cream (or turquoise)
Eye color: Light blue
Personality: Stubborn, loud & rash; a bit of a bully. Tough time showing care because it makes him become quickly embarrassed. Sensitive about his height.
Occupation: Ranked matches & hero work as agent 4.0; grudgingly works part time as a delivery-boy or (as he prefers) a pet-sitter.
Skill/weapon: His impatience & easy frustration leads him to prefer weapons like rollers (or brushes); Toni Kensa Dynamo is his favorite. He's been mentored by Sol.