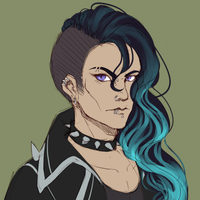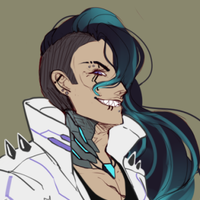 Ilya Zharkovich ([Cyberpunk 2077])
Profile
---
---
[ Employee Overview ]
GENDER:
Cis Male (he/him)
ROLE:
Counter-intelligence Operative
RESIDENCE:
Apt 0971, Megabuilding H10, Kabuki, Watson District, Night City
NOTES:
//
[ BACKGROUND ]
EARLY LIFE:
Born in Night City to TARASOV, Fyodor and TARASOV, Galina. Orphaned in 2049 (age 11) after death of parents in NCPD drug raid. Briefly joined the Animals gang from 2052 to 2055 (age 14-17); alias "Thresher". No records exist of any educational history.
EMPLOYMENT:
Recruited by McALLISTER, Kieran in 2056 and placed in Securities Division, Cybersecurity Subidivision (Night City). Transfered to Counter-intelligence Division (Night City) in 2067. Terminated in 2075 due to suspected espionage for Zetatech.
PSYCHOLOGICAL PROFILE (2074):
Openness: 53
Conscientiousness: 49
Extraversion: 65
Agreeableness: 21
Neuroticisim: 23
Highly aggressive risk-taker that values results over methods. Willing to do anything for wealth and power. Ambitious but lacks political acumen. Projected to stay in a mid-level position, unlikely to advance higher. Medium-high risk for betraying the company. Medium-low risk for cyberpsychosis.
[ CYBERWARE ]
CRANIUM:
Infolink Telecommunications Package
Hormone Regulator (Modified)
Pain Editor (Modified)
Biodyne Berserk MK.3
BARRIER Self-ICE
Biodyne T.A.S.K. Memory Boost
EYES:
Kiroshi MK.2 xB72 Eye Implants (Amethyst Purple)
TORSO:
Haematosis Blood Pump
Nutrimeal Metabolism Processor MK.1
antiVENOM Detoxifier Mk.2
SKELETAL:
impACT Shock Absorbers
Artificial Spine with Shark Tail Attachment (Custom)
ARMS:
Personal Link v4
Ammosaver Ballistic Co-processors
SmartLink Auto-targeting System
LEGS:
Federova Fortified Ankles
Eternus Titanium Joints
LynxPaws Movement Mufflers
BODY SYSTEMS:
DENDRiTE Synaptic Signal Optimizer and Accelerator
Kerenzikov Reflex Booster MK.2
ZION Mechatronic Core
[ Internal Communications ]
Employment Termination
HR Department
Ilya Zharkovich
---
Our records have indicated that your employment with Moore Technologies has been terminated. As per company policy, access to your company networks, vehicles, apartments, and bank accounts have all been revoked. All items in your office will be confiscated for disposal. A formal termination letter has been sent to your secondary inbox.
[This is an automated message from an unmonitored inbox. Do not reply.]
A pleasure
Sydney Devereaux
Cecil LaRousse
---
Agent LaRousse,
It was wonderful to finally meet you at the Special Operations department dinner last night. You looked absolutely stunning in your purple cheongsam – a shame that some people chose to be so tactless about it. Don't worry, I've already made sure that they'll be punished accordingly. I sincerely hope that doesn't put you off from attending any of our events in the future, I would love the opportunity to speak with you further.
In any case, if you have any questions or concerns, please don't hesitate to contact me.
Yours,
Sydney Devereaux
Director of Special Operations
Moore Technologies, Night City Branch
New Director
Masha Moran
[Special Operations Team]
---
All,
As Orianna Tannid has resigned from the position of Director of Special Operations, we would like you to welcome Sydney Devereaux as the new acting director. Sydney has been with us since 2061 and has had a stellar track record as an intelligence analyst for the Counter-intelligence Division. They are credited for several major successes in Europe, including the ops against EBM in Belgium and WorldSat in Italy. We expect that they will do even greater things in their new position.
Best,
Masha Moran
Senior HR Manager
Department of Human Resources
Moore Technologies, Night City Branch
Guest Speakers Wanted
Peter roth
[JungStart Alumni]
---
Hey all,
I hope you're having a wonderful day!
As you're all aware, JungStart hosts an annual semi-formal event for soon-to-be-graduates to give the students an idea of what different career paths are available to them upon graduation. We are currently looking for alumni who would like to be guest speakers for the event. Please reply to this email if you're interested – note that this year, the event is being held at Zurich instead of Geneva.
Thanks,
Peter Roth
Events Coordinator
JungStart Program
Moore Technologies, Geneva Branch
Bonus Payment
Valentin Severinov
Cecil LaRousse
---
Cecil,
Director Tannid and some of the other higher ups were very impressed by your handling of Operation Storm Runner, as well as your stellar track record in general. They've elected to give you a bonus of 10,000€$, which HR says you should see in your account within two days.
Good job.
V.
Cyberware Installation
Keesha Fahlahk
Cecil LaRousse
---
Agent LaRousse,
Your a cyberware installation appointment is confirmed for Monday. As per Director Tannid's request, we'll be outfitting you with special pre-alpha hardware coming out of R&D, as well as the usual hardware available to agents. You can find the names and descrptions of every piece in the attached document.
Please make sure to get a good night's rest and to fast for 12 hours prior to your appointment. After the installation surgery, we will be keeping you at the recovery ward for post-op monitoring for approximately one week to make sure that there are no complications. We have already coordinated with Agent Severinov and he is aware of your upcoming operation.
In addition, I've attached an informational brochure so you know what to expect following your operation. If you have any questions or concerns, please contact me.
Regards,
Keesha Fahlahk
Senior Cyberware Installation Technician
Installation and Maintenance Division
Moore Technologies, Night City Branch
Night City Transfer
Nikita Pashkova
Cecil LaRousse
---
Cecil,
Director Orianna Tannid of Special Operations has specifically requested for you to join the Covert Operations Subdivision over at Night City. Your AV to Night City will be leaving Thursday at 07:30, make sure to have your bags packed before then.
It's sad to see you go, but I'm proud of you. As you already know, Covert Operations appointments are only awarded to the most capable individuals, and to be personally selected for one by the Director of Special Operations is a great honor. I'm sure you'll do great things for Moore Tech at your new position.

Nikita Pashkova
Lead Trainer and Coordinator
Moore Technologies
[ COWORKERS ]
Director of Special Operations
"Well, if it isn't Ilya."
Covert Operations Leader
"..."
Covert Operations Agent
"Operative Zharkovich."