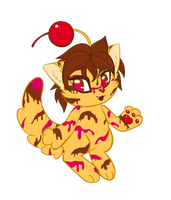 Profile
---
Bana the banana split pixie pet. Their fur smells like the treat they adore. In cold climates they are quite active and playful; get them in the heat and they become incredibly docile and sluggish.
☆PixiPets Ice Dreamers!☆
Bana is a part of the Ice Dreamers batch.
Traits include:
Tail: Fluffy
Ears: Spiky
Hair: Swirly
Eyes: Brown and Pink split
Bauble: Heart - updated to special bauble Cherry as of 01/26/2020
Unusual trait: Fangs
Pattern: Yellow and light yellow with splashes of magenta and brown. Accents are red.