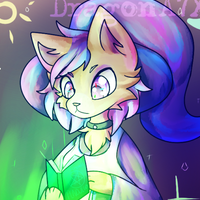 Profile
---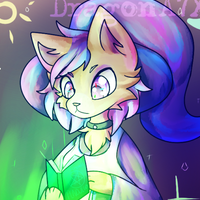 Name
Trixie
Gender
Female
S.O.
Bisexual
Species
Maine Coon
Occupation
Self-trained Enchantress
MBTI
INTP
Theme
About
Excitable • Chatty • Caring • Reckless • Never thinks anything through
---
In a dusty old mansion where rumours of the Caretaker run abundant, it would come to a surprise that the old place isn't just inhabited by ghosts and a fanged creature. Go upstairs to the fourth room on the left, and you might just find an awfully clean room filled with magical gadgets and vials the colours pink, purple and blue, a startling departure from the cobwebs that lace the rest of the place. Trixie isn't just your average Maine Coone, you see, she's an enchantress in training - unable to find a mentor. And her experiments might be a little out there, but she uses them to help her roommate's ghosts, and hey, who doesn't like free rent in this economy?
Likes
magic
potionmaking
books
pranks
Dislikes
not being able to help someone
cleaning magics (she's horrible at them)
strict, no-nonsense people
water
"Okay, but did curiosity really kill the cat?"
Summary
Trixie is the opposite of her roommate, Lilith. Where she is sweet and shy, Trixie is bubbly, excitable and happy - a natural extrovert - something which even applies to the ghosts she tries to talk with through Lilith! She's warm and gentle when she needs to be, which makes her the perfect fit for being Lilith's roommate - counteracting her melancholy nature well. Her passion about her magic is also undeniable, spending anywhere from six to a full night's worth of hours working on teaching herself the latest spell, no matter the accidents that might happen along the way.
Trixie is, however, a risk taker and far too curious for her own good, having the tendency to jump into situations without thinking out of sheer excitement. She also can sometimes misunderstand social cues, though she's quick to correct herself when it happens. Secretly, beyond her bubbly exterior, Trixie is prone to being harsh on herself for her failures - as the reason why she doesn't currently have a mentor is because he discharged her...
Design
• You can change up her outfit if you'd like! Anything flowy and wizardy will do.
Trivia
• Used to live in a nearby wizard tower before she got kicked out for disobeying her master's orders in using her magic to help a stranger.
• Pretty much broke, she keeps on buying books like "a dummy's guide to enchanting" like a drug.
• She also has no self-control which doesn't help (would be the world's worst gambler tbh).
• One of those characters who would probably unironically 'owo' at you.
• Often helps Lilith's ghosts find solutions to their problems so they can pass on to the afterlife. She considers it her rent's pay, since Lilith allowed her to live there for free.
Links
Her roommate! Even though she's the worst at cleaning, she tries to do other things... like make fun potions to try, or cook, or calm the spirits. Lilith's the best - why wouldn't she be, when she let her live in her mansion for free?
HTML by Eggy