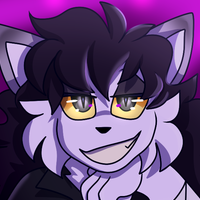 Profile
---
LIKES
Knives
Hard rock
Whiskey
Chocolate
Women
DISLIKES
Big crowds
Pop music
Being touched
Liqourice
Cleaning
TRIVIA
Dagger is Severus's son.
He is a demon! His magical aura is purple. His blood and insides are also purple.
He's tall and thin.
Dagger's pawpads are very easily sore, which is why he often wears shoes.
He is not as fluffy as his father, but he still has a lot of fur.
Dagger is Severus's son. He often comes off as sarcastic and sometimes rude. He is very similar to his father in a lot of ways. He's somewhat self-centered and egotistical. His attitude in life is very care-free, and he often does things just because he thinks it'd be funny, not caring about the end-result. He can also be a bit of a charmer and a flirt, he likes women... a lot. Despite all this, he is very kind to the people he cares about, he has a small friend circle that he treasures dearly. He has a very good relationship with Severus still, he will often visit his father and the two hang out a lot.
---
---
Quick summary
Dagger was only an infant when he was dropped on Severus's doorstep with a note attached. Dagger's mother had no interest in raising him and gave all the responsibility over to Severus. Severus, although a bit confused, accepted Dagger into his home and raised Dagger as his child. Severus was a good and supportive father and very active in Dagger's life. Severus still cares dearly for his son.
---
Young adult
Dagger had a girlfriend when he was 18, though the relationship ended very poorly for Dagger. After that Dagger stopped caring about romance. He prefers to just flirt and have short flings without worrying about emotional attachment. Dagger currently plays in a band with a couple of his buddies. Dagger works as a bartender in an 80's themed bar in London. He secretly has an affinity for classic rock and the 80's aesthetic, but you won't hear him admitting that.
---