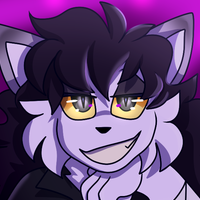 Profile
---
personality
Dagger is Severus's son. He often comes off as sarcastic and sometimes rude. He's somewhat self-centered and egotistical. His attitude in life is very care-free, and he often does things just because he thinks it'd be funny, he does not care about who it affects. He can also be a bit of a charmer and a flirt, he likes women... a lot. Despite all this, he is very kind to the people he cares about, he has a small friend circle that he treasures dearly. He has a girlfriend named Rose, he cares dearly for her.
likes
knives, hard rock, whiskey, Rose, chocolate, purple
dislikes
large crowds, beer, pop music, being touched, liquorice, cleaning
Kitten Dagger
Dagger was born in 1983, originally dropped on Severus's doorstep. Severus realizing it was his child, they raised him lovingly and sweetly. Dagger came out as trans to Severus when he was 15, which Severus happily and kindly accepted and helped his transition.
Young Adult
Dagger had a girlfriend when he was 18, though the relationship ended very poorly for Dagger. After that Dagger stopped caring about romance. He started to prefer flirting and short-term relationships with no romance involved. At 19, Dagger started a band with some of his mates, he was the bass player.
Current days
Dagger met his partner, Rose, when he was 26. Despite his aversion to romance, he fell right for her. The two since became a couple. Rose has children from a previous relationship, which Dagger happily helps raise! Dagger keeps mellowing out as he ages, he's a good dad and a loving partner!
design notes
piebald, purplish gray, lanky, fluffy hair, thin fur
trivia
Severus's son, rebellious, he is a demon!, purple aura