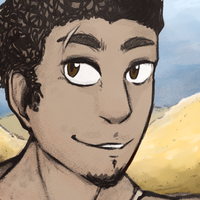 Profile
---
---
Height
5ft 8inch (174 cm)
---
Occupation
Fence / Information broker
---
---
Money
Women
Apples
A soft warm bed
Being respected
---
Insults on his intelligence
Cheap clients (ones not willing to pay)
Pickpockets
Disrespect
---
Is well known within underground communities
Is quick to flee if something goes wrong.
Relies on his allies a lot.
LOVES money but has a habit of losing it.
Acts proud but has terrible luck.
---
Originally from the fallen Otto empire Alabast was one of the mercenaries that played both sides of the civil war before it had collapsed. He is a close friend of Yuki and Satoshi, however remains a shady character within the underground. In the past he was highly intelligent and strategically plotted means of earning profit from the conflict itself. In turn making both Satoshi and Yuki very wealthy. But with poor choices, and mental damage caused by Ubekeen in the past, he has very little to speak for. Alabast continues to work in shady work but isn't as smart as he had once been. Ubie more or less controls his actions when he has the interest to
---
---
Has an unhealthy attraction with Yuki. He was a good friend of hers and helped her during a conflict within his homeland. Within their group Yuki was the translator while Alabast handled the paperwork itself. Even though Yuki is married, he still likes to be around her.. Much to her husbands displeasure.
---
Long held friend but also unwilling puppet to the shadows desires. Alabast always works within the underground along side Ubekeen. Over the years Ubekeen used Alabast both in the physical and mental sense. He manipulates the conman without the human realizing it due to the shadows Telekinetic powers.d.