---
Mr. TV was the one who found Cliff when he was starting out in the movie business. The kid had talent, but it was that power of his that caught the producer's eye. He got part of Cliff's soul inside his Film Collection and boosted him to one of the most famous actors out there. And now with both the fame and his soul, Cliff has no choice but to act in whatever role Mr. TV deems fit.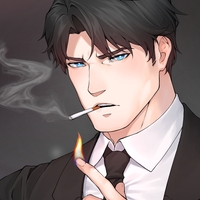 ---
Cliff was shocked when he met Mr. TV and his... head, but it was easily forgotten when he was lured in with the promise of fame and fortune. He saw his dreams, his FUTURE, through that monitor, and gladly offered part of his soul. He became a famous actor like he'd always wanted, but now he finds himself confined to this role. All other jobs he wants, Mr. TV won't allow. It's as if he's a caged zoo animal now...
---
Greed is such a raw emotion. Imagine using it to amplify Camera Lens. Or better yet, imagine unleashing people's inner greed on film! Their logic torn apart with a need for selfish gain, a brilliant marriage between reality TV and game shows! And all the while the internet stars would try to mimic such attitudes in order to get famous too, making him more powerful.
---
Jet is vaguely aware of Mr. TV. He knows he wants something, he just doesn't know what. He finds the man strolling through the casino occasionally, but the longer Jet's watched him, the more he's learned that he's not going there for pleasure. He's learning.
---
It has come to Mr. TV's attention that Cliff has got himself a romantic interest! A self-made internet celebrity known as Jun, huh? Well, Mr. TV has always had a soft spot for the internet crowd. Their attempt at fame was always too reckless; with a little guidance they could truly take over the TV industry as they were meant to. Mr. TV wouldn't object to helping Jun out if he would only agree to work under him...
---
Jun questions about his Cliff's manager, but then again the fact that he has a wing growing out of his back shouldn't make him question anything that's supernatural. Yet he's surprised that he caught Mr. TV's attention, considering how much of an oddball he is. Perhaps he is trying to get into the internet business?
---
One of Mr. TV's biggest upcoming projects is a film featured in the oldies. In order for it to be the success he's predicting, he needs the perfect actor, and that's where Robert comes in. He's not sure where exactly this man is from, and there's a strange vibe he gives off, but the director is willing to put all questions aside in order to get him to work under him. He'll do ANYTHING to have Robert.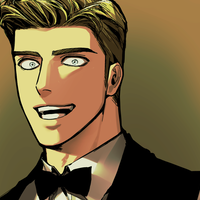 ---
Robert thinks Mr. TV is a hallucination-but a very remarkable one, that is. His determination to get Robert to work under him amuses the singer. At the same time, he believes that this will be a wonderful opportunity for him to spread joy all over the world. But then again, Robert has a hard time being convinced that Mr. TV is real or not.
---
Robert is still Mr. TV's superstar, but George? George is the team leader. His personality is charming enough to captivate all kinds of audiences, and he's always enthusiastic about any work! He's a perfect actor, and yet... Mr. TV can't help but feel a bit creeped out by that smile of his...
---
George sees his acquaintance with Mr. TV as a perfect opportunity to be on TV and deliver the news to the world! He's even willing to do voice-overs for commercials and become the host to many shows. He always greets Mr. TV enthusiastically and hopes to get closer to him. Besides, he just really loves TVs.
---
Mr. TV never really cared about Security, but more WHERE he worked: Jet's casino. If he could thin out the ranks then surely that would help him to take his powers! Besides, he'd been needing some security lately, so this was perfect! But Security is... kinda clingy.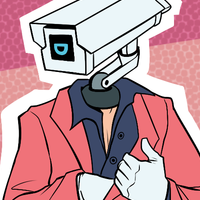 ---
Security harbors no ill will for being tricked. In fact, it's entirely possible he doesn't remember being tricked. But he does know one thing: his life is dedicated to Mr. TV. Whatever he does, whatever he thinks, Security's there to make sure it all goes smoothly. He'll ALWAYS be there. Just as his job entails.