---
[Related] Gil admired his grandfather and wanted to be just like him. If only Jey could be around today. How would he handle everything? Far better than him, that's for sure...
---
[Related] Jey loved his grandkids more than anything. They were his absolute pride and joys. Quite honestly, he had always hoped they WOULDN'T follow in their family's footsteps. The things Jey had seen as a detective were something he didn't want them to go through.
---
[Related] Though not related by blood, Gil always considered Cecil to be like a father to him. His biological father had left when his sister was born, and when Jey disappeared there was no father figure left for him. Then Cecil came and helped take care of things, gradually joining the family.
---
[Related] Though not related by blood, Cecil always considered Gil to be like a son to him. When he had heard about Jey's disappearance, he went to the Walker household to do what he could to help. It started with stopping by with groceries now and then, possibly babysitting, but he soon fell in love with Gil's mother and married her, actually becoming Ellie and Gil's step-father.
---
Growing up in a family that wanted nothing but justice, it was a slap to the face seeing his sister marry a mob boss. Gil cannot stand this man and would love to arrest him, but he feels conflicted. Justis treats Ellie right, he can't deny that, but... his business is still deadly... What was the right choice in this scenario?
---
Justis doesn't know too much about his dear brother-in-law, other than the fact that he disowned his sweet Ellie as a sister after they got married. The sadness that caused his wife is not something he can forgive.
---
[Lovers] Gil originally met Maple when she was in her wolf form, seeing her as a stray dog and taking her into his home to adopt her. She was absolutely adorable and was the only living being that he felt he could open his warm side up to. Little did he know that his dog ended up being a woman famous for being a pop star. It took a while for him to get over the shock and the... family trying to kill him for thinking he kidnapped her, but he grew to love her and ended up marrying her. She's certainly his opposite, but he can't help but chuckle at that enthusiastic bottomless pit of excitement.
---
[Lovers] Well, when a human picks you up off the street while you're in your wolf form thinking you're a stray puppy, you can't exactly just run out on him; that would just be mean! That's how Maple ended up accidentally meeting Gil, and from there she fell in love with the hardened private eye. He may be a little hard on the outside, but she's seen him and seen his ooey gooey center, and she's absolutely set on giving him all the love he deserves.
---
[Related] Don's uncle. Don is the son of a mob boss and is raised with this idea of breaking the law for financial gain... yet he doesn't seem completely sold on doing it. Gil sees some potential for redemption through him, and when he's approached for help, he takes Don under his wing and helps set him up with a job at a police station he trusted.
---
Don didn't even know about his uncle's existence until he was older, but he knew that if he was going to get out of the mob life, he was going to need help. He's grateful for his uncle's help and guidance.
---
[Related] Carmen's uncle. Gil is absolutely disgusted with this horrendous mindset of a young adult ready to take over an underworld criminal organization. He's ashamed to share the same bloodline. The only silver lining of his grandfather being gone is that he doesn't have to see how far his family has deteriorated.
---
Carmen knew her mom came from a family of stiffs, but her uncle really takes the cake. She blames him in part for Don's leaving the family, and resents him for it.
---
Years of searching for any type of lead about his grandfather lead Gil to the name "Grandfather". Ironic, in a sense, yet this one seems to hold an ominous power to it. He must find this Grandfather and see what he knows.
---
Perhaps it was guilt as he was a minute too late from saving Jey from his unfortunate death. Yet he felt as if Jey would have wanted Atticus to watch his child and his grandchildren. Regardless, he knows of Gil, his whereabouts and even his objectives. Yet, he doesn't freely show his face at all to him, waiting for Walker to finally find him.
---
[Exes] There was a time when Gil used to allow himself to get dragged around by a powerful playgirl named Lucia. He was definitely smitten with her, but couldn't keep up with her fast paced lifestyle and was eventually dumped. He's not too heartbroken over it, looking back on it fondly. Although he has no idea of her connection to Grandfather.
---
Gil was a former lover, more likely charmed with his scruffy looks and supposedly cold and collectiveness. Something about Walker gave her dark vibes, a characteristic that Demos seemed to swoon for. However, their relationship didn't last long as Lucia's lifestyle was ultimately different than his. However, she doesn't mind that they still in contact with eachother.
---
[Related] But only by blood. Gil is Ellie's older brother. He cherished her and hoped only the best for her, but the minute he heard she fell in love with a mob boss he couldn't stand it. Once she chose the mobster over family, he cut ties with her. To think that a POLICE OFFICER could so easily become this corrupt... it showed Gil how horrible the system was, and he left it to become a private eye.
---
[Related] Ellie is Gil's younger sister, and she's always admired him. Part of the reason she became a cop was because of him! He always talked about their grandfather, but she was simply too young to remember much about him, let alone feel the same admiration. When she chose to marry Justis, she knew this wouldn't sit well with Gil, but she didn't think he'd disown her! It was perhaps the worst day of her life.
---
[Related] Both the twins are something Gil was never prepared for, even after reading countless books over the matter. They run him ragged, even to this day and age, but he's still very proud of them and loves them dearly.
---
[Related] Pops here may look cruel and cold, but Lock knows what he's really like. He's just a lovable guy that wants to make sure his family's doing all right, and he does a pretty damn good job of it. Lock's always admired him, he's the whole reason he even studied law in the first place!
---
[Related] Having unexpected twins really takes a lot out of him, but Gil is proud of his children nonetheless. He feels like Cher takes after him more than Lock does, and he happily passes the day teaching her how to bake all kinds of treats.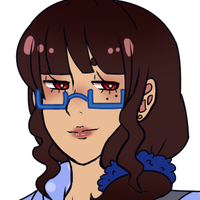 ---
[Related] Cher has always admired her pa, and thinks of him as one of her main motivations to get into law. They've always seemed to click, and she enjoys nothing more than learning all of the family recipes that he shares with her.