---
"Olivia's really sweet. Though she is a bit spoiled at times. She's so nice, though it seems as if she's holding something back. Not sure what. ...I want to be by her side no matter what, what is this feeling...?"
---
"The nice demon. He...I don't know what to make of him. He should not be helping as much as he is like this...yet he is. And it's GENUINE. It's so confusing...and...I really like it for some reason? But knowing that I've fought tooth and nail to get to the top...will he see me as who I truly am and still love me...?"
---
"Oh, I remember him! One of the really nice people of Kholero, a leader I think? He was really kind to me...and I really did like being with his family when they invited me over. Honestly...I just slept on the streets unless people allow me in. But...I really do cherish that kindness. I sorta wish I'd stayed in Kholero...but Emankor is my home."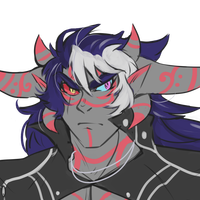 ---
"The kid...he really needs a hug. A family too. I'm still searching...but I hope he's okay wherever he is. If I could just find him..."
---
"Leave me alone. I don't want to talk. Just like him. Juuust like him. I'm fine with that. But you ask too much of me. I don't want this. I don't want to fight. I just want to run my shop. I can be cordial. But I won't play your game in studying the nature of man."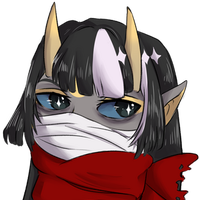 ---
"You always seem so stiff with me, child. ...I know you're older but ugh. Still, you are always so stiff...and then refuse to talk. Even if you go to another place, you disappear. ...Why? Can't we talk? ...You're a fool to not listen to my words."
---
"One of Roarkar's kids. She's sweet, very gungho. I was always an introvert, I preferred to be by myself. ...You really do like to drag people into your messes, huh? Kinda like my twin. ...Hahahahaha, died at birth, how about that? I've always been missing him, since the day I was born...anyway, yeah, fine I'll be dragged. I won't like it though."
---
"You really are sad, you know that? Geez, here we go again...at least you're still nice. You always were...oh man you're shying away again. You know what? SHOPPING."
---
"One of Roarkar's kids. I can resonate with her fine. I don't mind studying with her. ...Sure lures me with books dammit. Let me eat it. Uuuuugh. ...Oh geez you eat knowledge too hahahahahahaha- hey it's okay come on it's nice! Just let me eat it. ...Being here is nice, I just...can't..."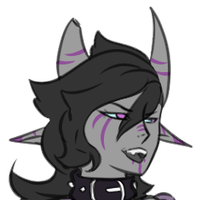 ---
"Huh, Carakante is nice. Cara. ...Carakante. Cara. ...I FOUND A WAY AROUND THIS WEIRD THING SIS MY TRANSGENDERDAR IS WORKING. I DID IT. I ACTUALLY DID IT. HOLY COW THANK GOD YOUR FEMDAR IS IN THE WORKS NOW MAN. ...Why are you glaring what the f- oh. ...Dammit. Oh well. Books."