---
Dicro is aware of Jerry's existence. He's heard he's from Denver. Dicro doesn't know what Denver is, but as long as he knows who Jerry is there shouldn't be a problem.
---
Bug has probably seen Jerry a few times while she's running around the college. So she's aware of their existence but only in the sense that she sees them in the background occasionally
---
Jerry is aware of Thyx, and for unknown reasons feels a strong desire for friendship... it could be the most metal of all.
---
Thyx is aware of Jerry's existence but, more importantly, thinks they're TOTALLY METAL!!!!! They've got a mech!!! That's LITERALLY metal, dude!!!!
---
An employee at the coffee shop she used to frequent. Dioclea considers them acquaintances, since they'd make some small talk now and then since they saw each other just about every day. She feels bad that she changed up her drink so often, though, so they couldn't just memorize her order or something... Dioclea was pretty concerned when they went missing, so she was overjoyed to find out that they were at Hell College! It turns out that the reason for their disappearance go a bit deeper than imagined, and looking at the big picture it might be related to Melibella's fate...
---
Poe and Jerry are both from Denver. (And both of them were sacrificed by the same cult and subsequently wound up at Hell College. Coincidence? Yes, actually.)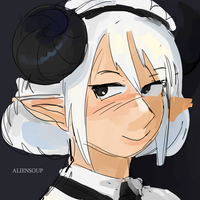 ---
Dear, sweet Jerry. From Denver. It is so amusing that her lady, Her Unholiness, has decided to keep them around. She is so very curious.