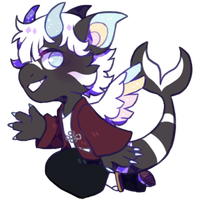 Basic Info
---
Viewing:

Dark mode for full effect
Profile
---
"...it feels like a lifetime/Oh God, I don't think I could do two."
Too demonic for the heavens, and too angelic for the underworld, Eon finds an uneasy balance within Paroith. A celestial hybrid between a demon and an angel, he finds himself struggling with a sense of belonging.
Currently, he spends his time as a traveling monk, unremarkable to the untrained eye but carrying clear indications of his astral bloodline nonetheless.