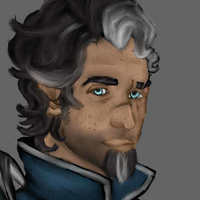 Kieran Ó Cathasaigh (Kieran Grystmayne - D&D)
Profile
---
Death Knight

---

Class

Haunted One

---

Background

5

---

Level

Werewolf

---

Race

Lawful Neutral

---

Alignment

Their EXP

---

Experience Points
Saving Throws
| | | |
| --- | --- | --- |
| | +4 | Strength |
| | +2 | Dexterity |
| | +5 | Constitution |
| | +1 | Intelligence |
| | +2 | Wisdom |
| | +6 | Charisma |
Skills
| | | |
| --- | --- | --- |
| | +2 | Acrobatics (Dex) |
| | +5 | Animal Handling (Wis) |
| | +1 | Arcana (Int) |
| | +7 | Athletics (Str) |
| | +3 | Deception (Cha) |
| | +1 | History (Int) |
| | +5 | Insight (Wis) |
| | +6 | Intimidation (Cha) |
| | +1 | Investigation (Int) |
| | +2 | Medicine (Wis) |
| | +1 | Nature (Int) |
| | +5 | Perception (Wis) |
| | +3 | Performance (Cha) |
| | +3 | Persuasion (Cha) |
| | +4 | Religion (Int) |
| | +2 | Sleight of Hand (Dex) |
| | +2 | Stealth (Dex) |
| | +5 | Survival (Wis) |
Favorite Attacks
| | | | |
| --- | --- | --- | --- |
| Name | Bonus | Damage | Type |
| Bite Attack | +7 | 1d6 | Piercing |
| Claw Attack | +7 | 1d4 | Slashing |
| Saber  | +7 | 1d8 | Slashing |
| Attack Name | +0 | 1d4 | Thunder |
Equipment
| | | |
| --- | --- | --- |
| Name | Summary | Attuned |
| Rune Blades | Two swords inscribed with strange runes that allow Kieran to channel his magic. | |
| Horn of Winter | | |
| | Quisque ipsum elit, ultrices vitae justo eu. | |
| Item Name | | |
| Item Name | | |
Money
Proficiencies
| | |
| --- | --- |
| | Light Armour |
| | Medium Armour |
| | Heavy Armour |
| | Simple Weapons |
| | Martial Weapons |
| | Shields |
Common
Celestial
Land Vehicles
Tool set
Game Set
Instrument
About
Personality Traits
You were born under a dark star. You can feel it watching you, coldly and distantly. Sometimes it beckons you in the dead of night.
Temples make him uncomfortable as do people of Celestial origin.
I put no trust in divine beings.
Ideals
I will no longer allow the chains of destiny to bind me. My power is my own, as is my life.
Bonds
There's evil in me, I can feel it. It must never be set free. I have a child to protect. I must make the world a safer place.
Flaws
I feel no compassion for the dead. They're the lucky ones.
I have horrible nightmares which plague me of the evils I committed.
I fear that the amulet given to me by Cyrus for protection against forces who could claim my will won't hold. (The amulet is a placebo and he believes it works)
Storage
Item
Item
Item
Item
Item
Item
Item
Item
Item
Item
Racial Traits
Two Forms: Each day, for a number of hours equal to half your total levels, you can assume the form of a human. These hours need not be consecutive. Entering combat (i.e. rolling initiative) immediately reverts you back to your Worgen form with no penalty.


Darkvision: Accustomed to dark forests, you have superior vision in dark and dim conditions. You can see in dim light within 60 feet of you as if it were bright light, and in darkness as if it were dim light. You can't discern color in darkness, only shades of gray.


Fear of Silver: Silvered weapons deal 1d10 extra damage when they hit you.

Unnatural Fortitude:  When you take damage that would not reduce you to zero or fewer Hit Points, and you are conscious, you may use your reaction to immediately heal for half the damage received, rounded down. You may not use this feature if the damage was dealt by a silvered weapon or has the radiant keyword. Once you use this feature you may not use it again until you have had a long rest.


This is Nothing: When you would suffer a level of exhaustion you may choose not to. Once you use this ability you may not use it again until you have had a long rest, food & drink, and have no levels of exhaustion.


Backstory
Appearance
70-80

---

Age

Their Height

---

Height

Their Weight

---

Weight

Their Marks

---

Distinguishing Marks

Their Eyes

---

Eyes

Their Skin

---

Skin

Their Hair

---

Hair

Their Scars

---

Scars
Class Features
Beginning at 5th level, you can attack twice, instead of once, whenever you take the Attack action on your turn.


Two Weapon Fighting                                                             3rd

 lvl
When you engage in two-weapon fighting, you can add your ability modifier to the damage of the second attack.
Starting at level 1 the Death Knight may harvest the remaining vital energy of a dying foe. Upon dealing a killing blow, the Death Knight may use it's reaction to siphon the target's vitality. You regain hit points equal to 1d10 + your death knight level, as well as filling one expended rune. The target is killed in the process. This can only be used once per long rest.
Quisque cursus tellus et est molestie, eget lacinia nunc semper. Sed vel augue magna. Donec nisl nulla, sagittis nec finibus vitae, tempor at mi. Mauris suscipit mi molestie, vestibulum odio at, ullamcorper urna.
Nunc placerat mauris sit amet mi ultrices pellentesque. Donec ac luctus lorem. Aliquam lacus nulla, auctor sed blandit sit amet, malesuada viverra neque. Quisque at ex felis. Ut eu varius turpis. Nulla id dictum purus. Etiam tempor venenatis leo. Sed dignissim dignissim dui quis rhoncus. Morbi vel quam laoreet, molestie nibh sed, hendrerit diam. Praesent tincidunt eu orci id eleifend.
Aliquam varius lobortis ullamcorper. Etiam hendrerit sapien fermentum risus euismod ullamcorper. Pellentesque hendrerit lacinia elit. In hac habitasse platea dictumst. Sed porttitor a nisl volutpat volutpat. Vivamus ac dapibus dolor, a lobortis tortor. Etiam fringilla purus sem, at volutpat risus aliquet ut. Proin at ipsum et quam sagittis consectetur eget in nisi. Vestibulum sed finibus arcu. Vestibulum eu tortor sed tortor ornare ornare.
Aliquam et nisi ac mi vulputate hendrerit a in mi. Mauris at nulla tellus. Vestibulum consectetur aliquet magna ac viverra. Vestibulum ante ipsum primis in faucibus orci luctus et ultrices posuere cubilia Curae; Ut iaculis finibus urna. Phasellus sit amet lorem porta, dignissim erat in, rhoncus tortor. Nulla sed orci varius, pulvinar diam quis, cursus erat. Quisque sed faucibus sapien.
Cantrips and Spells Known
| | | |
| --- | --- | --- |
| 0 | | Cantrip Name |
| 0 | | Cantrip Name |
| 0 | | Cantrip Name |
| 1st | | Spell Name |
| 1st | | Spell Name |
| 1st | | Spell Name |
| 2nd | | Spell Name |
| 2nd | | Spell Name |
| | | |
| --- | --- | --- |
| 3rd | | Spell Name |
| 4th | | Spell Name |
| | | Empty |
| | | Empty |
| | | Empty |
| | | Empty |
| | | Empty |
| | | Empty |
Favorite Spells
| | | | |
| --- | --- | --- | --- |
| Name | Range | Duration | Save |
| Bane | 15ft | Instant | Wisdom |
| Spell Name | Touch | 1 hour | Dexterity |
| Spell Name | 120ft | Instant | Intelligence |
| Spell Name | 60ft | Instant | Constitution |
| Spell Name | Self | Instant | N/A |
| Spell Name | 40ft | 1 minute | Charisma |
Magic Item
| | | |
| --- | --- | --- |
| Name | Summary | Attuned |
| Item Name | Suspendisse lobortis ex at libero porttitor elementum. | |
| Item Name | Suspendisse non vulputate nulla. | |
| Item Name | Quisque ipsum elit, ultrices vitae justo eu. | |
| Item Name | Maecenas ac vulputate quam. | |
Runes
| | | | | | |
| --- | --- | --- | --- | --- | --- |
| 1st lvl | | | | | |
| 2nd lvl | | | | | |
| 3rd lvl | | | | | |
| 4th lvl | | | | | |
| 5th lvl | | | | | |
| | | | |
| --- | --- | --- | --- |
| 6th lvl | | | |
| 7th lvl | | | |
| 8th lvl | | | |
| 9th lvl | | | |
Component Pouch