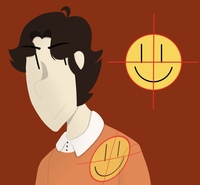 Profile
---
Confidence
Charisma
Optimism
Intelligence
Empathy
Happiness
---
Ever since he was young, Tetsuya was extremely good at figuring out people. He's always been extremely talented at picking up on body language, and knowing what said body language means. He himself figures it has to do with how his family is mostly made up by yakuza members. Tetsuya earned his ultimate title, ultimate criminal profiler, when he was in middle school after he observed a new teacher only to find out the man was a murderer.
He lives with his mother Hiroko and stepmom Felicity on a farm with his three sisters and 2 stepcousins, and visits his mama Aoi over the weekends. His favorite animal are chickens!
Tetsuya tries his best to hold himself seriously, which is something he's horrible at, and he tends to get a little awkward in conversations. He's a lover of philosophy and poetry. Despite his efforts to do the opposite, he tends to get attached to people easily.