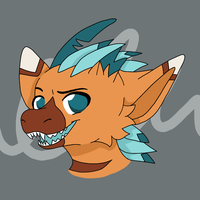 Profile
---
Species
[Dutch angel dragon]
Orientation
[Heterosexual]
Relationship Status
[Single]
---
date RECEIVED
[Sep. 16th, 2019]
---
A IRL friend (TimberlyTioga) gifted me the original (sketched) design that I was allowed to redesign. 
I redesigned this character, giving it color and a identity making me more of the creator.
----------------------------------------------------------------------------------------
Makalu, or Mal for short, is a earth element dutch angel dragon. His breath is a life breath, allowing him to grow plants and do a little healing. His breath is not very strong. His abilities are strength and agility, allowing him to climb the mountains he loves. 
He is very chill and goes with the flow. He has very good morals and doesn't get mad easily. This makes him very easy to get along with and talk to.
Mal has a hard time understanding the difference of wanting attention from a friend and a crush. He also can be pretty clumsy and forgetful and feels guilty when letting his friends down. Because of his go with the flow attitude and positive nature, sometimes his friends feel like he doesn't have any sympathy or care for their problems.
He loves the mountains and flying really high. Mal loves cool rocks and earth science. He even has a huge collection of geodes and other rocks that interest him. He has started to get into carving the rocks, but this is difficult and he is not very good at it.