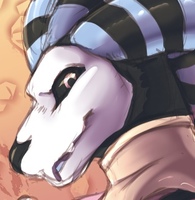 Profile
---
Joker
Male
6'2
Skulldog/demon
???
About
Joker can switch from sweet and protective to trailing his claw down your spine the next. Inside he may be quite angry, but he controls that, surpressing it ready to tear someone a new one when the time is right, or you have pushed his buttons one too many times. he loves to play around but not know when enough is enough. He has hurt quite a few people in his innocent playtime. Joker always seems to be making mistakes, but he can't help that. He no longer cares and just rolls with it now. he doesn't mind making a prat of himself as long as he can make someone laugh. Laughter feeds him, making him feel all good inside. Most of the time it is his own laughter that gets him going. It may not have even been from the same day when he starts giggling uncontrollably. Yes that does scare people quite a bit, be that amuses him too. It makes him wonder how long it taikes for someone to finally have enough of him and leave him. He finds that funny too, and by god if he sees you again you better look out.
Joker is a very scary guy despite how playfull he looks. his bright colours are meant to be attractive, and this makes people underestimate him. they also don't know how to percieve him because he is a jester skulldog wearing pretty pastel colours. Joker regularly says some weird stuff, but how calmly he says it in his deep croaky voice doesn't help either. You never know if he is being seriuous or not. Just take it as a yes okay. Despite this Joker doesn't actually talk all that often.
Joker's abilities vary depending on which form he is in. sometimes in anthro, he has two items. One can be dubbed as both decoration and as a weapon and the other just a weapon which for some reason he never cleans. he carries a staff with a dog skull (which is not real) on the top with bells when he is playing around and the other weapon is a mace that usually has stale blood in it. Why a mace? No idea. He just really likes them. Also in anthro form he likes to perform magic tricks with cards and make balloons. He also has a bright pink unicycle he likes to ride around on with his bulb horn. He can leap to high places, stick to walls and ceilings as well as float temporarily. He can make these objects and tools or weapons randomly manifest and vanish when he likes.
In feral form, Joker has more limited ability and appears more dog like. He does not speak at all unlike his anthro form and loves being pet and fussed over. He is a rather large canine, averaging 5'4 at his shoulder. As he moves at fast paces, his body blurrs to allow swifter movements around obstacles (like the Begin circle on the BTS Wing's album cover). If he needs to, his figure can also disperse completely to seperate itself around larger objects.
"Endings are everywhere.. Let's hope I don't accidentally kill everyone then! HA HA!"
Design Notes
Design inspired by BTS' Wings and Love Yourself albums
Any circus/jester themed clothing
Black and white or the pink/blue/purple/yellow clothing only
Each pawpad is either a club,heart,spade or diamond in 1/4 colours
Soft and toony= squishy paws. Dark and scary= long fingers and claws(no pawpads)
The striped trails either side of his head are used as ears, the midle on his head is just decoration
Always has bells on his trails and tail no matter what form he is in (anthro or feral)
No clothing at all in feral form