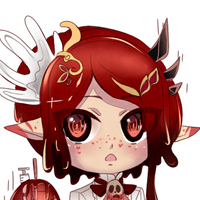 Profile
---
Type: Cocoa beast [summer]
Traits:
 Season: Summer
 Jelly: Cherry jelly
 Corrupted: Liquid
Jelly taste: Cherry
Age of death: 15
Age since being reborn: 3 years
Current Master: Nyra Ellens (23, College student)
...ve...not...yo...
Sh...up...lis...!
Don...othe...tal...me...
This spell will do. Let me die...
I never really knew about mental illnesses before. I think I was too young when I died? Yet my master, Nyra, she seems to know a lot about it. She's studying it right now actually, to be a therapist. And even then, she struggles with mental illness herself. Depression, anxiety, anorexia, schizophrenia- ah, right, the depression and the schizophrenia would be lumped into schizoaffective. I'm still learning...but learning beside her is so interesting! Everyone is a person, even those who hallucinate. Everyone is kind, even those who struggle with the dark thoughts every day. I just...can't accept it for myself. I can't feel their love and kindness without feeling sick...they say my soul was damaged by a spell. One full of despair...I still don't understand it. But...I hope to understand it someday. Oh, it's done!
Nyra! Your Cherry Cobbler is done...!