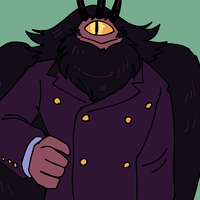 Basic Info
---
Aliases

Black Night Raven

Occupation

COO, 63rd department

Favourite food

Small mammals
Profile
---
A friend of Lux's, Andras appears very laidback and personable... At least unless you've caught him at a bad moment. He can be very persnickety, so if you call for him, you better be prepared properly beforehand, he has very expensive tastes. 
As far as his anatomy, he can withdraw his horns into his head and vary their length.
He also has a pet wolf that he rides to work.