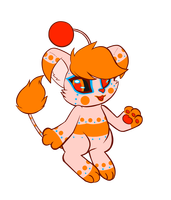 Profile
---
A pixi with a love of clowns, jesters, and calaveras. Sibling to Kynosure, Carousel is a horror buff to the max and will be found browsing for scary stories, movies, games, or anything thrill based.
They also very much enjoy any and all holidays as the decor makes them happy.
Carousel is a part of the Halloween batch.
Traits include:
Tail: Poof tail
Ears: Folded 
Hair: Side swept
Eyes: Unusual black sclera, orange, red
Bauble: Red ball
Unusual trait: Fur mired with markings including a white face that appears and vanishes at will
Pattern: Spots of various size