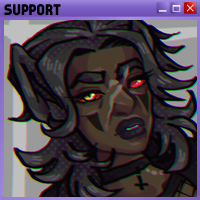 Profile
---
Status
main / active / updated 1/15
Juanita Felipe Espinosa
Slightly weary funny guy who's actually pretty dead inside. Hides behind jokes and "being cool with everything" to at least look like she still has her things together.
Has been in the gang for a very long time but no one really knows for how long exactly. Rarely shares her darker depressed side to others out of fear of losing her position and ultimately be left alone. Probably the only thing she could take pride in is that she has a nice singing voice.
Honestly rather hard to anger since she feels so dead inside though don't mess with her gang, that's the closest she has left to a family thusly protecting it fiercely.