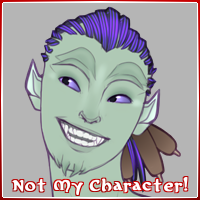 Basic Info
---
Title

The Margrave of Mischief
Profile
---
Based off aloe vera plants; has succulent-like leaves along his arms.
Canine teeth are slightly longer than average, vaguely resembling a cat.
Fronds are pulled back into a ponytail, which sprouts a couple cattails.
Eyes are naturally slanted and a bit on the squinty side.
His chin sports a leafy sort of goatee.
His facial structure is reminiscent of a Korean ethnicity.
He has a fang pierced through the lobe of his right ear (viewer's left).
Arsast is a mischievous, high-energy little imp of a man. He hates being serious and loves being promiscuous, and has a bit of a short attention span. Despite his goofiness, he's actually quite clever and a quick learner. It's nearly impossible to find him in a bad mood.
His absolute best friend and partner in crime is Ingrid.