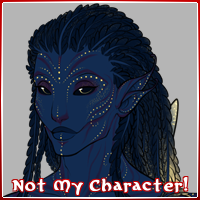 Basic Info
---
Title

The Knight of Mirrors
Profile
---
Funky mouth - The corners of his mouth continue up under his cheeks - Jaw can unhinge like a snake and open incredibly wide, hence the strange appearance
Eyes are black, with only a golden ring of pulsing bioluminescence around the iris to show where he's looking
He has a unique nose that's somewhat flat, with a shape almost like that of a cat (art that shows him with a traditional humanoid nose isn't canon)
His fronds ("hair") curl at the tips
His wings are styled after maple tree seeds
Like all Sylvari, he has a bioluminescent glow most visible at night; his is gold in color. The variations are shown in his ref sheet below.
Mahva is generally a very amicable, placid man. He's mostly calm and polite, and is not shy about his compassion. He doesn't always get angry, but when he does, it's usually in the defense of someone he cares about.

In a relationship with Skena.
Kitche is his spoiled daughter.
He dresses in almost a Bohemian style; a lot of harem pants. His clothes are mostly shades of black, plum, and deep forest green with golden accents.