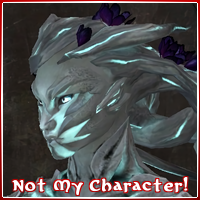 Basic Info
---
Title

The Knight of Symphony
Profile
---
APPEARANCE:
Nikotiemus is a tall, willowy Sylvari with birch bark skin and pale blue eyes. Long branches weave back from his head, and are strung with strands of fuzzy usnea lichen and dappled with dark violet columbine flowers. He has beautifully sculpted features, but still retains an undeniable air of masculinity (Nils Kuiper is a good facial reference). His bioluminescence is a pale, icy blue that, coupled with the black markings of his birch bark skin, give him a ghostly, skeletal appearance at night. He is most comfortable wearing robes, or Asian-inspired clothing such as kimonos, yukatas, kosode, and haori. His preferred colors are silvers, grays, and pale blues coupled with dark purple accents.
PERSONALITY:
Nikotiemus is a bit of a daydreamer, often lost in thought to the music in his head. He has a sort of serene, peaceful quality to him that he uses to lure in the unsuspecting and earn the trust of the gullible. He'd rather not expend the energy hunting his prey, and instead lures them in willingly. He retains a very aloof manner about him, and is generally a person that is difficult to get to know, more concerned with his music than much else. There is a cold pride and dignity to him.

He lives with and is relatively close to Arseni!