---
Sam is Peight's adoptive brother and is very close to him. He worries a lot about Sam as his attitude leads him to get into trouble a lot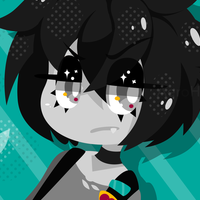 ---
Very close to Peight, probably the only living thing that Sam is even remotely comfortable and relaxed around. Sam's slightly protective of Peight.
---
Admires Shae a lot. Wishes he had the same leading drive as she does but at the same time is concerned that sometimes she looses focus on what's really important and succumbs to tunnel vision. Also has a huge crush on her.
---
Sees Peight as a trusted friend and fellow firearm enthusiast. Thinks Peight worries too much about other people.
---
Peight feels sorry for Jessie as soon as he arrives. But, at the time, isnt able to meet Jessie to try and help. Months later Peight and Jessie meet and quickly they both realise they have a lot of similar interests and lots to talk about. Getting Jessie to talk about said things was a lengthy process but Peight has the patience of a saint and is always there when he needs to talk. Peight is very worried about all the pressure being put on Jessie.
---
Jessie is very happy to have Peight as a friend as he seems the only one in his life that has his head screwed on right. Will often go to Peight if he needs advice.