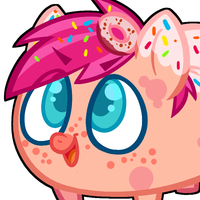 Basic Info
---
Full Name

Donovan Carlos Sprinkles

Languages

Spanish, American English

Gender Expression

Androgynous leaning towards masculine

Sexuality

Bisexual (50/50 preference)

Relationship Status

Single

Species

Confectionery Shetland Pony/ Mini-Pig Hybrid (Feral (Type: Sprinkle Doughnut))

Abilities

General pony abilities, general mini-pig abilities, general confectionery creature abilities, doughnut mimicry, minor human physiology

Disabilities/ Disorders/ Etc.

Dwarfism

Born

April 3rd, 1997 (24 years old), Houston, Texas

Current Resident

Houston, Texas

Height

0'7" (in true/ feral form (at shoulders)), 4'0" (in anthro form)

Personality

Cheerful, feisty, sassy, talkative, easily amused, very playful/ competitive

Likes

sweets, accessories, toys, playing, [WIP]
Profile
---
Donovan, also known as Donnie, is a feisty pony/ pig hybrid that loves doughnuts and playing games. 
  Note(s): [1] He looks more like a mini-pig with pony traits. [2] The doughnut markings on his sides are 'birth tattoos'. [3] Due to his physiology, he can change sizes, he can go from his normal size to microscopic sizes. [4] He has minor human physiology, which allows him to have some of the properties of humans, like human-level intelligence, speech, and lifespan. He cannot shape-shift into a human form, but he can shape-shift into an anthropomorphic form. [5] He usually just wears accessories, especially food themed ones, but when he does wear clothing, he wears bright androgynous clothing, especially hoodies. 
  Change(s): [1] As of April 10th, 2021, he was changed from an MLP pony to a plain non-fandom pony/ pig hybrid. 
  Link(s): [1] Art Fight Profile: https://artfight.net/character/1785692.donnie