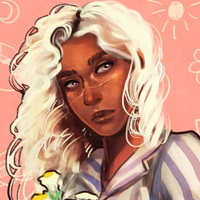 Profile
---
Saffron
---
sensitive • quiet • anxious
---
Summary
Nickname
[Saf, Saffie for closer friends]
Design Notes
White curly fluffy long hair (underlayers are dark brown)
Light grey eyes
Scar across his face
Freckles
Constant resting bitch face
Appearance
Standing at 6'4", Saf frequently finds enemies in low doorways and ceilings.
He wears a short sleeve, striped button-up shirt and a matching apron, his uniform for work. He is horrible at dressing himself all other times so he just sticks with his uniform.
More often than not, he has a stray leaf or twig stuck in his cloud-like hair. His face is covered with freckles but the most distinct part is his grey eyes- like polished silver. They seem to glow in contrast to his dark complexion.
He has a scar, right across the bridge of his nose. He's self-conscious of it but there is nothing that could be done!
Background
Saf left his hometown with his sister to start a new life. Having absolutely no clue what he is doing, he opened up a cafe and garden to support himself.
Notes
He's really tall, doorways are his enemy.
He is completely wooden 99% of the time but on the inside, he is a nervous wreck who is constantly worrying about pleasing other people.
Has a hard time speaking up and expressing himself! He's working on it tho!
He walks a bit slow since he injured his leg as a kid. That's why he likes plants tho, they don't move when you set them down.
Can't cook to save his life but really good at making coffee and tea.
He can talk to plants, wait no not really, but he knows what is wrong with them most of the time.
His cafe is also a plant adoption center. He also attempts to sculpt pots for the plants from time to time but he also sucks at that. Well I guess they just need to hold dirt and a plant to be a successful pot so they check those marks at least.
Likes
Plants, flowers, greenery, trees, bushes, leaves, etc
Coffee and Tea
When he doesn't need to talk
Dislikes
Confrontation of any sort
Public talking
Speaking