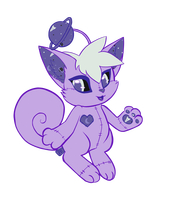 Profile
---
Playful, protective, and a tad silly. Missle is a pixi that aspires to goals as lofty as their space theme.
☆PixiPets Patchworkz!☆
Missle is a part of the Patchworkz batch.
Traits include:
Tail: Curly
Ears: Spiky
Hair: Swirly
Eyes: Black, purple, and grey
Bauble: Heart - upgraded to a Ringed planet ad of 01/27/2020
Unusual trait: Black sclera
Pattern: Shades of purple and grey! Has rockets, stars, and planets for their patchwork design!