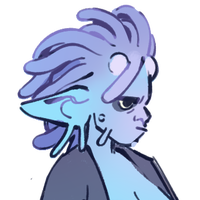 Profile
---
An Exopsychologist with the Direct Human Studies team.
...Really taken with the showmanship and posturing of professional wrestling. That, or her job really just leaves her wanting to punch stuff, and she just rolled with it.
In line with the posturing professional wrestling, she has a "wrestlesona" look, including a 3d printed jaw to fill out the look. When actually wrestling, however, the outfit has dessicant pouches integrated - dehydrating (form the ususal 50% to about 30%) does make a goo stronger, as well as smaller. It also means she lacks some of the expected fluidity of her species. She rehydrates after a match - the outfit's gimmick is one-use, until the dessicant pouches are replaced.