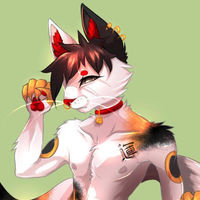 Profile
---
Kouki

Maine Coon | 20 | Male
About
Kouki is essentially me! They are a Japanese lucky cat currently living in China studying to become a tai chi monk. They are always super calm and straight forward, as well as very loyal and trustworthy. He's not super social but he does love to meet new people and be with his friends if he has the time. About his appearance, he has four "spots" on him, as a maneki neko would. On his face, underneath his eyes, are two curved, thick black lines. The forearms are all black, but at the elbow/joint area, the fur changes to white, which is his main fur colour.The inside of his ears are a burnt red colour, as well as his nose, inside of mouth, and paw pads, and claws. He always has two piercings on his that are attached by a thin chain like string, with a dangling coin attached. This, and his collar with a bell attached never come off! Every colour of his fur represents something. White for luck and overall good fortune, the black to ward off evil spirits, the goldish orange colour to bring wealth, and red resembling good health.
Backstory
Kouki origanlly lived in a small town called Tateyama, in the Chiba prefecture of Japan until a few years ago when the moved to China to pursue becoming a Tai Chi disciple and hopefully one day a monk!! He also is a bit religious, taking part of Shinto. Alongside this, he practices Taoism through tai chi and every day life.
Likes
Smoked salmon, Calpico drink, karaoke, sake, onigiri, bringing luck to friends, drawing, photography, dark woods, paranormal, confidence and friendliness. Fave food is ramen!!
Dislikes
Evil spirits, drama, anger,tomatoes, deep oceans, spiders, boredom