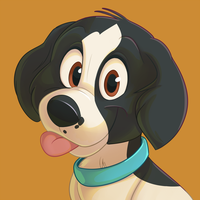 Basic Info
---
Gender

Ambiguous (she/her)

Species

Earth Dog and Guardian Spirit

Breed

Springer Spaniel mix

Fur color

Black and white
Profile
---
You were my leading light
Now you're somewhere free
Spot is my first childhood dog and the leading drive in my life. Spot inspired Red Spot and the fictional universe in which he resides as a whole.
I have decided to write and draw stories where Spot and I live a healthy, happy childhood together and go on adventures as a way to find peace.
I am currently commissioning art of Spot as they were alive, but intend to find artists to design how they would have looked as an adult eventually.
Please be respectful of Spot.
Some fictional story ideas:
Light powers (coming soon)