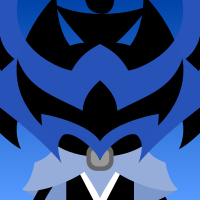 Basic Info
---
Nicknames

Zigzag, Yarida, Destrobo

Birthplace

Heave Ho Oasis, Kumobashiri Island

Combat class(es)

Spear wielder/Brawler

Weapon range

Spears, lances, arms

Positive traits

Reliable, efficient, cooperative

Negative traits

Impatient, rude, bad-tempered

Likes

Peace and quiet to himself, birds, spicy food

Dislikes

Having his privacy invaded, crab monsters, cold weather, his past
Profile
---
"Make it quick. I don't have all day."
Co-leader of the Uberguard, one of Sora's friends and also one of the many inhabitants of Rolitoland who rediscovered the Uberhero masks left behind after the Second Archfiend War concluded, this intrepid Uberhero has made himself quite a name in the world of bounty hunting. People of the Zigoton Empire and territories beyond whisper of his mask-swapping ability, which allows him to operate as two separate combat classes. Donning not one, but two masks at the same time isn't exactly a pleasant experience, as Zigzag struggled with memory issues during his first few months acquiring both the Yarida and Destrobo masks.
He is normally a man with less words and more action, but if something needs pointed out, or if he cannot avoid speaking for that matter, he will speak his piece of mind. His fighting style may be unrefined, some call it reckless even-- But keen eyes will see his experience on the battlefield, as if he is a trained soldier. He keeps many secrets with him, including a past convoluted and dark.