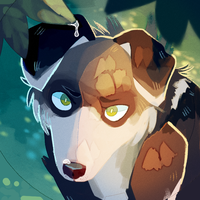 Profile
---
Basics
 Name
Roxi
 Age
N/A
 Gender
non-binary
 Pronouns
she/they
 Species
domestic dog
 Orientation
unknown
 Status
N/A
 Zodiac
N/A
 Created
September 4, 2019
 Themesongs
About
Roxi is a dog who lives in the same world Bienie does, and has been their companion. She has a fairly serious demeanor, but is rather easygoing and carefree. Roxi is introverted, and tends to resist meeting new people. When someone else enters their mindscape, Roxi will hide and not be seen unless she and Bienie both consent to it.
Interests
Likes fields, forests, wind, running, the colour green, blueberries, cosiness and cuddling
Dislikes being perceived, loud or busy environments, continuous conversation with almost anyone
Relationships
★ Bienie 📎 Companion.


Physical description
The current up to date reference sheet with design notes can be found here.
Build of a Shetland Sheepdog, but doesn't have a full mane/collar as a purebred Sheltie would
Looks fairly androgynous, preferably drawn without feminine eyelashes
Fur on head sticks up but can be drawn flat like a real dog's head
Fairly neutral in expression
Can be drawn with Bienie (or alone), please ask before drawing with anyone else!
Trivia
Predecessor is Freek. Freek was made as a companion character to Bienie, as well as an alternative fursona, but was eventually retired because I lost connection.
Roxi was created and named months before she was designed. A few concept designs were made in this period, but casted aside.
HTML by lowkeywicked