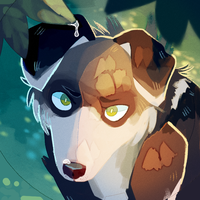 Profile
---
Basics
 Name
Roxi
 Age
N/A
 Gender
unknown
 Pronouns
she/her
 Species
domestic dog
 Orientation
unknown
 Status
N/A
 Zodiac
N/A
 Created
September 4, 2019
 Themesongs
About
Characteristics etc. may not be final. Not much is currently known about Roxi.
Interests
Likes fields, forests, wind
Dislikes 
Relationships
Bienie 📎 Companion. Still in development


Physical description
The current up to date reference sheet with design notes can be found here.
Build of a Shetland Sheepdog, but doesn't have a full mane/collar as a purebred Sheltie would
Looks fairly androgynous, preferably drawn without feminine eyelashes
Fur on head sticks up but can be drawn flat like a real dog's head
Fairly neutral in expression
Can be drawn with Bienie (or alone), please ask before drawing with anyone else!
HTML by lowkeywicked