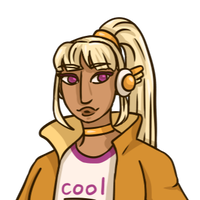 Profile
---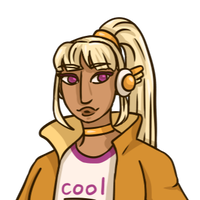 Name
valkyrie hargreaves
Age
25
Gender
nonbinary
Height
6'
Race
human
Home planet
Elysium-13
Power
force field
HTML
About
The squad's resident ex-fed and sharpshooter, Val has a keen eye for targets and for justice, and the drive to do what's right. Hailing from the aristocratic settlement Elysium-13, they are the most refined of the group and take pride in their appearance and sense of civility.
Val took in the Shaw twins (Jack and Willow) after they attempted to steal food from them a year before the beginning of the main story.
Trivia
Val's hovercycle is a refurbished police vehicle.

Their forcefields are spherical, and iridescent magenta in tone.