---
She just sits there reading manga... a being of that stature spends all of her energy on cartoons... what an odd thing.
---
Kind of scary and intimidating... but they don't really bug her. She still just reads her manga way in the back, though...
---
Disrespectful mutt... they shouldn't have to tell a being of his intelligence that chewing on books isn't allowed. Annoying.
---
A headache. Her getting that invitation meant that he had to waste time getting her set up and figuring out where the hell the person he actually meant to invite ran off to. He thought it'd be classy to send it to his apartment instead of just right in front of his face, but apparently that's the last time he'll be doing that. Worse is that she always pops up at the library and won't stop bothering him... though, the more he learns the more he realizes there's a reason for it that makes her infinitely more interesting...
---
Dioclea feels bad about wasting Ganymede's time, but she can't help but be intrigued by them. What connection did they have to her neighbor? She doesn't want to push them, but she can't help but hang around them whenever she can.
---
An interesting figure. He radiates an energy found only at the very boundaries of existence, and perhaps he brushed against the outside of them. A shame he couldn't get permanent experimentation rights to him, but oh well. Research continues.
---
Poe spends much time in the library and Ganymede has interest in subjects that Poe is inherently tied up in, namely the fringes of Entirety and phenomena that are yet to be explained. They're familiar with each other, and while Poe doesn't mind Ganymede's prickly personality all that much his prying nature is a bit disorienting.
---
STOP CHEWING ON THE BOOKS THEY ARE OLDER AND MORE VALUABLE THAN EVERY ATOM THAT COMPRISES YOUR MISERABLE FORM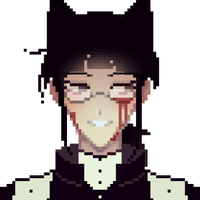 ---
Chaurus is decent, as far as Infernals go, but Ganymede can't help but be annoyed that Ignis got his hands on someone so tolerable. It's just the fact of the matter.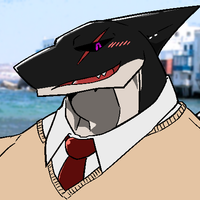 ---
Ganymede has valuable things to say, but the guy really needs to learn how to relax. Not everything Ignis does is to annoy Ganymede specifically! Doesn't he have anything more important to be doing than trying to meddle in the boss' affairs?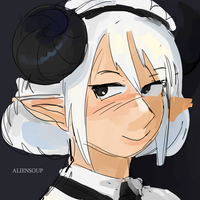 ---
Always so concerned about things that don't matter. It's a shame, because their minds are not unlike, and they could have such conversations together...