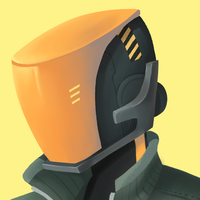 Profile
---
✦ Basics
| | |
| --- | --- |
| Name | Ditch |
| Pronouns | He/They |
| Height | 6'1" |
| Weight | ??? |
| Age | 32 |
| Species | Human? We assume? |
| Class | Pilot |
| Sexuality | Pan |
✦ About
Ditch is a search and rescue pilot who makes a living off of saving clients from difficult situations and smuggling them to safe locations. Ditch may have a stoic disposition professionally, but in truth, is almost comically anxious.
When Ditch's ship went down on an Ivvuk colony planet, he involuntarily acquired a new friend during repairs. Ditch is now accompanied by a twice-molted Ivvuk nymph, who is fascinated by Ditch and tries copying most everything he does. It will also fight with him and will eat most anything organic.
✦ Appearance
Ditch is medium size in every way. It's hard to tell what their actual appearance is when they're wearing a helmet all the time, though the bright orange makes them easy to identify.
✦ Skills
Adept Hand: You can use any vehicle without training.
Pragmatist: Escape from any combat scenario.

✦ Equipment
Plasma Cutter: A futuristic version of the common cutting and welding tool. It creates an electrical channel of superheated, electrically ionized gas to form a circuit with the target. This can also be used as a medium ranged weapon.
Pressure Suit and Helmet: Black and orange striped bodysuit and helmet that maintains a consistent and safe pressure.
Casual Outfit: A jacket and pants worn over Ditch's pressure suit.
✦ Relationships
✦ Bonuses
● RACIAL BONUS | Unassuming: Humans are the most common species in most colonized areas. +2 INS or relevant modifier when stealthing through crowds.
profile html by Hukiolukio