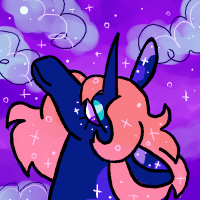 Profile
---
Orbit
Gender
fluid
Pronouns
she/her they/them
Age
unknown
Birthday
18/04
Personality
daring, emotional, reserved, pedantic
Special Talent
Astrology
Orientation
Aro/Ace
Theme
Voice
HTML
Likes
books
musicals
late night walks
scarfs
knick knacks
Dislikes
coffee
vegetables
stand-up comedy
About
Orbit was at the start of everything.
They are the guardian of the Garden but they like to keep it low-key and elect to live with the ponies that she live in the foundation she built.
Backstory
I was born out of wedlock. When the universe was in it's infancy and two stars decided they fancied each other. But that's all it really was. A fling, lust. Nothing more then when you want one of the cakes your mum made for the party but she said no. My parents busied themselves with different planets and such. both too busy to pay me any attention So I made my own universe. My own little Garden that I could observe and feel involved in, like a reality tv show. I would visit sometimes but it wasn't until I turned 18 in space years that I decided to move to the garden that I so carefully made. I have been there for many many millennia. But you wouldn't know it.
Life
In the present day I lead a normal life, in Stardust Valley. I write the horoscopes for the paper as well as providing tarot readings for the locals. I chose to live in the valley because it reminds me of the beauty of where I came from. fun fact! I actually didn't mean to create the Garden. It was a happy accident. I just sneezed and then there it was. My appearance is merely a disguise of sorts. I'm actually just a powerful force of pure light.
Moodboard
Relation
ship

s
Every time I go to the seaside I pay a visit to Magic Sand. Not only to see how she is doing but also to see her latest sand sculpture. We have wonderful chats together and enjoy each others company.
Rain is just such a positive energy to be around. You can really count on them to cheer you up and they're always a good laugh!
Rose Bud is quite but she's surprisingly interesting and savage We talk all the time just about random stuff and I can always count on her to be Straight with me.