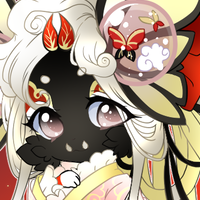 Profile
---
Gender:
Female identifying
---
Reading
Learning applicable science
Planning and layouts
Potatoes of all forms
Disorder
Bright white rooms
Repetitive work
Carrot cake and icing
I needn't speak louder for my thoughts to be heard.
Amara was wished into existence by her parents, Takeshi and Aurora. She represents their wish for the calm before storms.
Amara is a somewhat cold, calculating bean with a love for learning things that she can use. While quirky and a bit dark, she's not really standoffish per se, and is fiercely loyal to those who are kind to her. She's something of a Wednesday Adams, if you will.
HTML by lowkeywicked