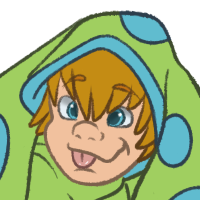 Basic Info
---
Age

7-9 (currently depicted, but varies)

Hair color

Dirty blond (is dyed red when older)

Eye color

Light blue with gold/green central heterochromia
Profile
---
It is now clear he is named Cayden. In reality I'm named Andrew.
The decision to have him not be named Andrew is to differentiate him from HoD's Andy. But rest assured he's still me.
Two designs of him exist: younger (with natural dirty blond hair) and older (with hair dyed red, typically cosplays Andy.) there is no inter-lap between these two designs for personal reasons. If he's depicted as blond it's the younger design, if with dark red hair it's the older design. Please keep content about both versions PG-13.
As Cayden is essentially "human Finsterhund" they will never occupy the same space.
Little things to note:
Has an open heart surgery scar
has prominent but widely spaced freckles on his arms, legs, and neck but they are nearly invisible on the bridge of his nose and cheekbones
Pale with extremely sensitive skin (sunburns easily, overheats easily)
Is shaky and lightheaded
Has a speech impediment that becomes more noticeable when excited
Central heterochromia can be difficult to draw. If unsure just give him solid blue eyes
This character is basically me. Please respect the character and only draw him if given permission or a trusted friend
Is rarely seen without a dog or stuffed toy and hates wearing shoes and socks