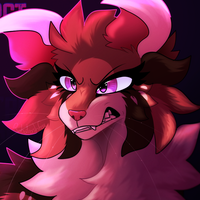 Profile
---
CREATION BIRTHDAY
3rd June
Fox-Fall is one of my sonas- I somewhat consider them a true-sona at times (It depends/changes) and adore her so much <333 She can be called Fall as a nickname.
Whenever Fall dies, she's re-born into a new life and always carries the memories of her past lives and deaths. She tries to remember everything and everyone in her lives although they sometimes tend to blurr together and only remembers the bad half the time.
Despite this she always strives to make others happy and spread good vibes despite feeling disconnected and alone in the world. Fall finds joy and comfort in flowers although they are often a sign of tragedy and tend to show up a lot around their deaths/bad times in her life.
TRIVIA
Really loves the beach, forests and long walks in nature!

Due to her backstory + countless alternative lives, she can be drawn with anyone/anything :3c She has existed everywhere and anywhere!! Is friends with some of my other ocs hehe...
CREATIVE / CAUTIOUS / SAD
Foxfall is extremely easy going and passive- they seem to not worry or stress about things too much and is super mellow. Despite this they are often depressed, feeling down and alone in the world. They aren't really the smartest although most view them as wise and empathetic with a good judgment on what is right and wrong.
They like to be positive, loving, encouraging and optimistic for other people but tend not to be very kind to themselves. They greatly dislike being around others that are loud/aggressive and insensitive.
Exploring

Pretty Sunsets

Nature

Flowers
Fire

Rejection/Abandoment

Loud noises & Yelling

Feeling hopeless
With Omis obsession with cats- its no surprise they immediately bonded with Fall the moment they crossed paths. Fall is great friends with Oemiac and loves playing/doing silly things with them!! While they're both usually shy and nervous apart, together they are a chaotic/hyper duo!!
HEIGHT
Smaller than avrage
DESIGN NOTES
Flowers are optional! Can be any type too :]

The white specks are optional, especially with animation lol.

Honestly they can be drawn however. They vibe with anything.