---
She's got quite a few secrets... it would be a shame if any of them got out.
---
People like him... they're the scum of the earth. He should learn to mind his own business.
---
Poor fellows like him could use a helping hand! Or perhaps 4. It's really not so hard to find a candidate for murder.
---
An underhanded scumbag. There's already one of them exploiting people in the Hellscape - why does there need to be one who just treats their lives like an interesting scoop?
---
Everyone treats him like he's some wacky dog, but Hal's hiding a lot... he's got a pretty juicy past, too. The perfect type! Full of darkness that no one knows about... he can definitely work with that.
---
His aunt. She was always one of the few tolerable family members he had growing up, and she was hardly ever even around. Practically the only one whose life he didn't feel the urge to ruin. See? It pays to treat your family members well. Be a cool aunt who encourages you and sneaks you candy and your nephew won't dig up all of your secrets and hold them against you for fun and profit!
---
Her nephew! Aranaea's quite proud of how he's grown over the years, and is thrilled to see that he's been invited to Hell College! She's confident in his ability to succeed there.
---
A goldmine! She was invited accidentally, she seems connected to that Jerry fellow, supposedly she was a supervillain, and she might be linked to a Heaven College student... not to mention all of the soul-selling! Crucifera sees the two of them becoming fast friends for sure...
---
One of the first people she met at Hell College. He helped get her settled in alongside Pira, and she later approached him to sell her soul to him. She thinks he's cute and nice, so she looks forward to seeing him more throughout her school life!
---
What a guy! His unique little condition is always great for news. Everyone loves a good inexplicable goring. Funny makes money! Violence also does that.
---
Crucifera is an important source of details and news for her! His prices are steep, but there's no cost too high for JUSTICE!
---
Ignis better tighten that leash, because Lureus is hilariously easy to get confidential information out of. Seems Ignis learned to stop letting Lureus know anything important pretty quick, at least, but Ignis isn't the only person on campus Lureus knows...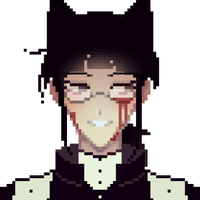 ---
Multiple hands means........ multiple pets!!!!!! He'd hang out with Crucifera more if he cared more about gossip, but he doesn't.
---
A notorious goody-two-shoes, there's not much dirt to be dug up on Chaurus. It's a shame, because he sure does get in the way of some points of interest. Ah, but that's never stopped him! If anything, Chaurus' attempts at obstruction are just entertaining.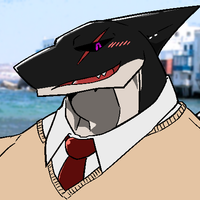 ---
Nothing but trouble. Chaurus gets investigative journalism and all, but Crucifera just likes digging up dirt for the hell of it, not to mention all of the blatant lies he spreads! He always tries to keep Crucifera away from Poe and Lureus, but there's only so much he can do...
---
It's a shame she never stretches the leash, because Crucifera knows someone like her must have information he can't get anywhere else. A direct source on the Dark Chancellor... that'd be something, wouldn't it? But, hey, if she's right on the universe and everything, he'll probably find out whatever he wants with the time granted by eternity, anyhow.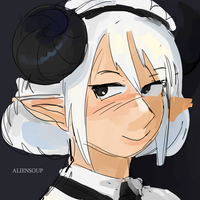 ---
Naughty boy, always poking his head where it doesn't belong. If he'd like her secrets, he'll have to try much harder.