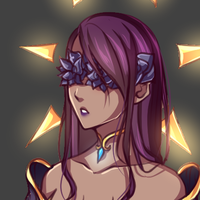 Profile
---
Ilyana Markovich
---
Sorceress. Changeling . x . 
Name:
Ilyana Markovich
Occupation:
Crone witch 
Gender:
Female
Orientation:
Unknown
Magical Signature:
green tea and ylang-ylang
Ambergris replacing ylang-ylang
Theme:
Likes & Dislikes
---
| | |
| --- | --- |
| quiet mornings, the smell of flowers | |
Personality
---
At first she was a rather docile human, polite enough though not without her faults. She spent a great deal of her magic helping others, making potions and poultices for healing and  refreshing the spirit. 
Appearance
---
 Hair color: Dark brown / Black 

Eye color: Pale Hazel

Skin color
Thick glasses, thin fingers. long straight hair, kind of stringy, average bust, hair in eyes unless she pulls it back. 
Abilities & Skills
---
Healing: 
Contracts:
Azophi : Sight beyond sight to repair her failing vision and strengthen her magical abilities as well as his status as her familiar (or the other way around really.)
About
---
Ilyana was always a placid girl never making much of a fuss. A childhood riddled with not so much abuse as it was distance her mother ran away shortly after she was born pulled into the Feywild by her own will in order to both escape the responsibility of a child she didn't want to raise and to be with her supposed true love, one of the fae. Raised by her Grandmother, three generations of witchcraft nearly died with her mother's betrayal as Ilyana's grandmother had no wish to teach another child who wouldn't listen. 
She would even go as far as to believe that perhaps this daughter had some sort of fairy blood within her veins further driving the wedge between them. Though she was entirely human, her Grandmother's whims would leave her body in a weakened state. A deficiency in iron in the blood, anemia, poor vision and a number of other minor health problems would stack the odds against her. 
With her Grandmother dead Ilyana is now the heir to the house she grew up in and her possessions. Selling the house was one thing though before she moved away she did another. Despite her condition she was able to summon forth and form a pact with a familiar though unknowingly a drop of her blood fell away allowing the creature she summoned, one of the Unseelie.
Unknown to her she is not in control of the creature though has been lead to feel and believe she is beginning down a darker road than she would ever realize. It all would start with a simple request to see, to have vision that didn't faultier while she worked. But once convinced she didn't have to stop there, what more could she give away to survive, to thrive in this world.
HTML by lowkeywicked