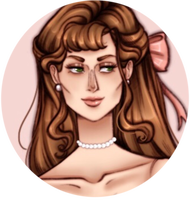 Profile
---
b a s i c s
Goes by
Paisley Rose Writer
Build
Very skinny, model-like
Relationship Status
Single
Birthday | Zodiac
June 9 | ♊
Heritage
Possibly Mediterranean
Birthstone | Flower
Pearl | Pink Rose
a b o u t
A very proud, feminine and close minded young girl, Paisley seems haughty, vain and shallow to everyone who knows her. She can also be a bit flighty and air-headed on certain topics. However, she has a relatively good heart and a sense of sensarity and earnesty and that sometimes shines through. Unfortunately, most of the time she just seems like a rich spoiled brat. She's very trendy and most people would call her basic, but since she has such expensive tastes it would be almost silly to- all her clothes are brand name, her pearls are real, she's decked out in gold-- it would be like calling a princess a basic bitch. It's sort of strange though...no one's seen her or Pandora's parents and no one knows where the money comes from. Paisley just has a debit card that never seems to run out.
She acts so rudely to others simply because she believes she is better, and/or she is intimidated by the other party involved. She doesn't understand what is happening and is actually quite scared and un-adjusted even after two years. She tends not to over think things and pushes her conscious out of her mind. The aspect of her amnesia is something she keeps to herself and doesn't advertise and only a few people know that she and her twin are some of the amnesia victims. She is sort of touchy on the entire subject and will actively ignore people who ask where her parents are or where she came from. She's rather popular in the private school that she and Pandora attend (though they go there for free) but Pandora is the only person that she considers herself close with. She would consider herself incomplete without her twin, and is actually the more dependant of the two of them.
Traits: +earnest, +good hearted, +affectionate, +adaptable, +charismatic, +sociable, -vain, -haughty, -shallow, -flighty, -restless, -indecisive, -rude, -dependent, -entitled
Trivia:
Pandora and Paisley are (fraternal) twins. Paisley considers herself the older twin, but no one really knows

She has hired an occasional housekeeper to come in and clean Strawberry mansion so that she and Pandora do not have to

She has a debit card that never seems to run out

She hates neon colors and the color fuchsia

Paisley's favorite type of animal is the Calico cat. 

The fact that one day she will be old and marry some guy and probably have kids terrifies her

She's always been interested in maybe becoming a model 

Pink roses are her favorite flowers 

She listens to a lot of Marina and the Diamonds 

Likes telling people she's older than she is- usually 17.

Neither of the twins can drive, so they either hire someone to do it or make their friends drive them around.
Links: Dressing Style | In Depth Bio | Roleplay Information