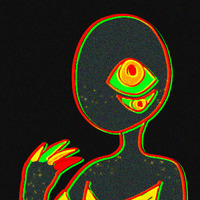 Basic Info
---
Gender:

??? (any pronouns)

Alignment:

chaotic neutral
Profile
---
"BBzzZrt"
This guy is similar to Glitchman but isn't malfunctional. The two eyes on its face are permanent, but it can manifest more at will. Also unlike glitchman, it was never human. It was created from scratch. Nobody got a chance to teach it much before it escaped the lab in which it was created. It's not antagonistic, but can be destructive if provoked.
When it escaped, it got tangled up in caution tape and hasn't bothered to take it off.
It doesn't care about pronouns. You can call it they or he or whatever, it doesn't make a difference.