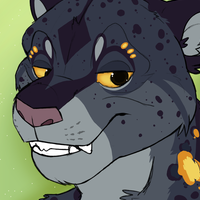 Basic Info
---
Species

Melanistic Jaguar

Body type

Mesomorph, heavily built upper body snd neck, (not as "skinny" as ref)

Sexuality

Bi (non-binary and males)

Alignement

Lawful Neutral

Likes

Working out (mainly strength), relaxing, hanging with friends
Profile
---
First met Dunder at a gym. Spotted for him a couple times.
Becomes Dunderbeist's partner after a long road of Dunder accepting that he likes guys, after a lot of internalized homophobia.
Is very confident, but gentle when needed to, helped Dunder get over his internalized homophobia, and gave him a broader view of the world, by introducing him to people unlike himself. Dunder has previously had a very "toxic masculinity"-mindset.