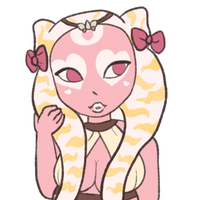 Profile
---
Oshka Li
---
creative . kind-hearted . optimistic
Oshka is a soft-hearted Shili native who moved to Kiros as an adult to chase her dreams of being a dancer and artisan in the big city.
She now puts her skills to good use, volunteering in ex-slave colonies as an entertainer and art therapist in her free time. She also makes some of her own dance costumes and headwear!
---
" how can i help, beautiful? "