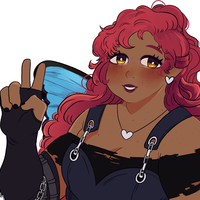 Profile
---
About
Fairy biker chick whose magic manifests in her hair looking perfect all the time, even when she tries to make it otherwise. She never wins. Lives with her wife, Ricky, and their dogs.
Personality
wip
Design Notes
Saorise has golden-brown eyes and reddish-pink hair. Her skin is covered in freckles. She has blue morpho butterfly wings. She wears her hair in many different styles and lengths, so draw whatever you want! You can even draw her bald. She rocks that look.
She has a goth fashion sense and dresses in dark clothing that tends to show off some skin. She likes to wear chains. No matter her outfit, she's always wearing a heart pendant and heart earrings.
Saorise is fat, please do not draw her skinny.
Kittens
Parks
Food trucks
The sun
Spa days
Just riding around town
The cold
Meat
Geese
Sparkling water
Her HAIR on some days
Traffic...
Background
Human father, fairy mother
Birthday: April 6
tba
tba
tba
tba
tba
profile html by Hukiolukio