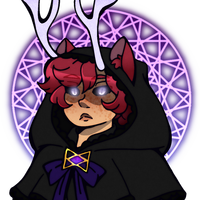 Reverie Hayes (01. AU | Madoka ☆ Magica)
Profile
---

info
A magical girl from a small, close-knit town. Perpetually shy, she shies away from crowds and prefers the library to the mall. She tends to work alone, even though she yearns for companionship. Books about esoteric subjects are her favorite to read, and she considers herself an expert on the occult and the supernatural. Unfortunately, this knowledge makes her come off as off-putting to her peers. Her wish was "I just want someone to like me."
soul gem
color: violet
symbol: aether symbol
civilian appearance: charm on a choker
transformed appearance: ???
stats
role: magia
element: dark
main power: charm person / illusions
weapon: book
---

witch
The occult witch with an isolated nature. Her sanctuary is atop of an impossibly tall tower filled with books. Red strings that lead nowhere are tied around her fingers. She buries herself in her studies, yearning to know the secrets of the stars. She abhors distractions and has locked herself away from minion and man alike. Drawing her from her sanctuary is crucial to defeating her.
doppel
The Doppel of isolation. Its form is of the occult. It drapes itself over its master to hide her from view, and hates when others come near. It prefers to stay passive in battle and lends its master its power, only acting in her defense. Its master seems unaware of it despite its obvious presence, but its influence has not gone unnoticed — its master is noticeably more vicious and aloof when it is around.