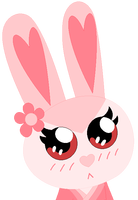 Profile
---
Name: Blossom
Species: Rabbit
Personality: Peppy
Gender: Female
Birthday: May 14th
Phrase: Saki
Style: Cute
Fear: She doesn't wanna talk about it.
Clothes: Blossoming Kimono (Pink variant)
Saying: Every living thing blossoms into the beauty of your heart.
References: The theme goes around cherry blossoms, hence her phrase and name.
Description
---
TBA