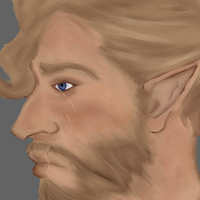 Profile
---
Alphonse 
---
. x . x. Lawful Evil
Gender:
Male
Race:
Half-Elf
Occupation:
Barrister
Class:
Hexblade Warlock
Personality
---
Pre-Game 
Alphonse was once a devout follower, a jovial man for a lawyer. He spoke with an air of importance beyond his ken. 
Current
Now broken of foolhardy ideals Alphonse is a bit of a masochist. Spending years within the prison work camp has hardened him beyond his years. While there is still a sliver of his old self within his soul the light is quickly fading.  
Appearance
---
Hair color:  Ashen Blonde 
Eye color:  Hazel
Skin tone:  White - Scared 
Scarred by the lash from working within the mines of the work camp, Alphonse is toned, his hair long and somewhat bedraggled even now as he prepares to rejoin society.   
About
---
JUSTICE DELAYED IS JUSTICE DENIED.
Once he was a barrister of the court, a paladin of Pelor and a champion of the law, of true justice. But as he rose within the court there were those who became jealous of his skill and envious that someone of his birth would ever have risen to such heights. And while Alphonse was careful he was not careful enough to avoid the treachery of the court when its full attention was upon him.  
He was lead into a trap of legally binding jargon so tight that even he himself could not escape it. And he was tried, convicted and sent to prison to work in a labor camp for a sentence of several decades. Long enough that no one would remember him upon his return. But it was not enough for him to serve his term, for him to labor for his freedom. Those who wished him gone would not rest until he was dead. An accident at the labor camp would be simple enough, and then there troubles would be over.
Narrowly escaping the plot to end his life, after everything had been taken from him he finally realized that true justice could not be found on this plane, or any of those above. And so for the first time in his life he looked below. 
Rescued by an unlikely ally, he sold himself into the service of one he knows he cannot trust. But that does not matter in the slightest anymore. Now reborn as a paladin of Asmodeus he only wishes to be alive long enough to see his revenge through to the end. Everything after that, should the Lord of the Nine not take his soul upon the final blow of his revenge...
It doesn't matter, not anymore. The Gods are dead. And the justice of the mortal realm has culled them.
HTML by lowkeywicked