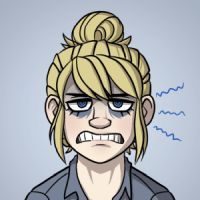 Profile
---
Tiffani Fairfax 💻 Ultimate Tech Support 💻 cis girl (she/her) 💻 the token cishet 💻 cancer
When megacorporations face devastating malfunctions in critical software, they call Tiffani for her incredible troubleshooting intuition and ability to work under pressure. She makes absolute bank doing her job, but the corruption and incompetence of Silicon Valley techbros has left her a jaded, sleep-deprived misanthrope.
Likes: Dogs, vacations, coffee
Dislikes: Literally everything else
NOTES
Alt outfits encouraged! Her non-work clothes are extremely Florida white girl.
She has an extremely ugly pug named Haskell who is the sole light of her life.