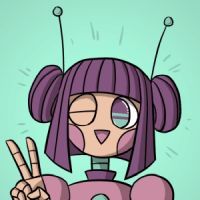 Profile
---
Ping 🔋 Ultimate ??? 🔋 robot (she/it) 🔋 N/A 🔋 capricorn (technically)
Ping is... Ping. Her hard drive seems to be broken, so she doesn't remember why she's there, and no one else knows either. But she's very good at being Ping! Maybe that's her talent.
Likes: Curly hair, being cute, sticking her finger in electrical sockets
Dislikes: Rain, classical music, CAPTCHA codes
NOTES
I'm not sure how you'd go about doing alt outfits for this character but go for it if that's your thing. Maybe a cat ear headband?
If you're a mecha artist and you wanna mess with the design and go ham with some extra detail that would rule actually be my guest.